Alexandra Lafeme
Berlin
Alexandra Lafeme verkörpert das Bild einer echten Sexgöttin, der man sich einfach nur mit jeder Faser seines Wesens und Körpers hingeben möchte. Gerne schlüpft die schöne Blonde mit der üppigen Oberweite in die Rolle der Domina und peinigt Sie, bis Sie vor lauter Lust laut aufschreien. Der zierliche Körper dieser 24-jährigen Sexbombe täuscht also nicht darüber hinweg, dass sie geladene Power für ein paar erotische Spiele der etwas anderen Art mitbringt. Denn wenngleich Alexandra auf den ersten Blick ganz unschuldig aus ihren blauen Augen gucken mag, macht sie in Lack und Leder doch eine sündig schöne Figur zum Dahinschmelzen.

 

Besonders auf dem Gebiet der französischen Erotik ist dieser sexy Engel eine wahre Meistern. Alexandra mag es hart und wild, kann aber auch sanftere Töne anstimmen, wenn dies von ihrem Liebhaber gewünscht wird. Im Vergleich zu ihrem seriösen Alltag als Versicherungskauffrau sucht Alexandra zwischen den heißen Laken den Ausgleich und lässt sich gerne mit ihrem ganzen Körper gehen. Liebkosen Sie den üppigen Busen dieser Raubkatze und leisten Sie jedem ihre Befehle besser Folge. Denn sonst peitscht Sie Alexandra mit großer Vorliebe bis zum bitteren Ende der Lust aus. Auch die Zungenfertigkeit dieses blonden Hinguckers wird ihnen noch lange bei dem Gedanken an gemeinsame Liebesnächte heiße Schauer den Rücken herunterlaufen lassen.
Service:
frz.Erotik total, GV, griechische Erotik, ZK, 69,
Actions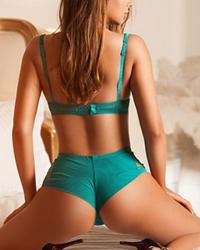 Looking for a beautiful female companion in Manchest...
Jun 22, 2017
Stunning international seductive beauty with sparkli...
Nov 2, 2014
I'm Laila and own a private retreat a 35 min dri...
Feb 9, 2017